Soursop Fruit Kills Cancer 100-Fold better Than Chemotherapy
March 12, 2014
Soursop UK contacts and information home deliveries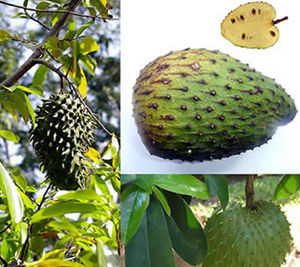 © preventdisease.com
The fruit's extracts from Annona muricata tree selectively inhibit the growth of human breast cancer cells.
The Soursop is a flowering, evergreen tree native to tropical regions of the world. It also contains a long, prickly green fruit which happens to kill cancer up to 10,000 times more effectively than strong chemotherapy drugs, all without the nasty side effects and without harming healthy cells.
According to Cancer Research UK, Annona muricata is an active principle in an herbal remedy marketed under the brand name Triamazon. The licensing for this product in the UK is not accepted due to its enormous healing effects on the body and potential loss of profits for competing pharmaceutical cancer drugs. 
This tree is low and is called graviola in Brazil, guanabana in Spanish and has the uninspiring name "soursop" in English. The fruit is…
View original post 486 more words