NGS Signsmith Workshop London – March 1st
February 20, 2014
London Sign painter workshop with Nick Garrett of NGS London
Nick Garrett Traditional Signwriting & Glass Gilding
Download our PDG intro course guide.
NEXT COURSE –
London Sign-smith start course with a bit of gold leaf thrown in!!
1 March 2014 –
Whether for curiosity, hobby or new career.. lettering is great fun and interesting.  I will help you get started and make steady progress with true signwriting skills.
Life is Amazing
It is crucial the first touch of the brush to panel is positive and for sure I will make you first step in the journey of signwriting a really confident one.
Welcome to our NGS Signsmith courses.
………………………………………………………………………………
Course 1:  An Intro to lettering and layout design workshops 1 day 'NGS Signsmith' course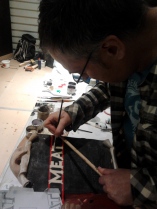 Showing how to set out a sign panel and letter it professionally. But there's much more to it… and a lot of it is really simple logical stuff which will take you to the next level wherever you are.
You will get straight…
View original post 591 more words