NGS Sign painting courses London
February 8, 2014
Nick Garrett Traditional Signwriting & Glass Gilding
NGS Sign Smith Handbook 2014.4
Whether for curiosity, hobby or new career.. lettering is great fun and interesting.  I will help you get started and make steady progress.
Life is Really Amazing when holding a brush!
It is crucial the first touch of the brush to panel is positive and for sure I will make you first step in the journey of signwriting a really confident one.
Welcome to our NGS Signsmith courses.
………………………………………………………………………………
Course 1:  An Intro to lettering and layout design workshops 1 day 'NGS Signsmith' course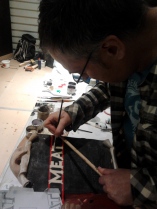 Showing how to set out a sign panel and letter it professionally. But there's much more to it… and a lot of it is really simple logical stuff which will take you to the next level wherever you are.
You will get straight into look n learn technique sessions that will describe how to flow out the difficult segments and eat…
View original post 442 more words